Software Steckbrief | Testüberblick | Kurzfassung| Screenshots | Firmenwerbung | Links
Nummer
S10-20
Produkt
CheckForPlagiarism.net / iPlagiarismCheck
Hersteller
Plagiarism-Checkers, Inc.
Web-Site
http://www.checkforplagiarism.net bzw http://www.iplagiarismcheck.com
Software-Typ
Online
Kosteninfo

| | |
| --- | --- |
| Paket | Preis |
| Studenten Paket | $ 20.00 |
| Monats Paket | $ 65.00 |
| Jahres Paket | $ 150.00 |
| Spezielles Studenten Paket | $ 39.95 |
| Individuelles Paket | – |

Testdatum
21.09.2010
---
Rang für alle Tests:
17
Rang für Tests 10-40:
5
Rang für Tests 31-40:
15
Benutzerfreundlichkeit:
19
Professionalität
16
Durchschnittlicher Rang:
14,4
Effektivität (Zensur):
5
Gesamtplatzierung:
15

nutzlos
---
iPlagiarismCheck (auch checkforplagiarism.net genannt) ist bereits imTest 2007 aufgefallen. Die angebotene Ergebnisse wiesen eine sehr deutliche Ähnlichkeit mit den Resulaten von Turnitin auf. Das Unternehmen betonte aber, dass dies nur die Ergebnisse waren, die jedes System als Plagiat angeben würde – obwohl keines der anderen Systeme auch nur eine annähernd ähnliche Anordnung und Gewichtung der Turnitin Ergebnisse lieferte. 2008 waren wir nicht in der Lage einen kostenlosen Testaccount zu erhalten. Wir haben uns entschlossen 2010 in eine 30-Tage-Lizenz zu investieren. Turnitin hat ja in ihrer Datenbank einen Köder-Aufsatz gespeichert. In der Tat,  iPlagiarismCheck – und nur iPlagiarismCheck – fand, dass dieser Aufsatz ein 100% Plagiat sei und gab als Quelle den nicht vorhandenen, in der Datenbank von Turnitin gespeicherten, Link an. Dies zeigt, dass dieses kein eigenständiges System ist, sondern nur eine Firma, die mit unerlaubter Zuhilfenahme anderer Produkte Geld verdienen will.
---
Stellungnahme des Herstellers
---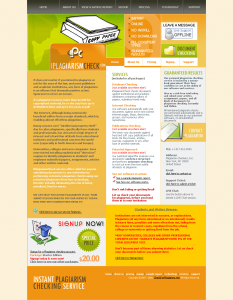 Screenshot 1: Startseite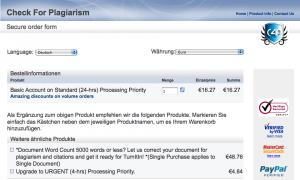 Screenshot 2: Vorbereiten auf Turnitin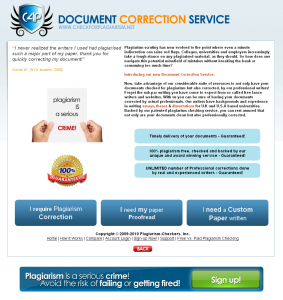 Screenshot 3: Korrektur Service wird gleich angeboten

Screenshot 4: Ein paar Stunden warten
---
"CheckForPlagiarism.net is a USA and UK based company which helps scan documents (any type of documents) for Plagiarism using the latest and most in-depth technology available to identify and highlight even the most subtle attempt at either intentional or un-intentional plagiarism.
Giving you an opportunity to check your documents before submitting them. Whether you're a student, teacher, professional, writer or blogger; you can benefit from our service. Simply submit your document(s), and relax. We'll take it from there!"
---
offizielle Website http://www.checkforplagiarism.net bzw http://www.iplagiarismcheck.com