Software-Steckbrief
| | |
| --- | --- |
| Nummer | S07-16 |
| Produkt | WCopyfind |
| Hersteller | Louis A. Bloomfield, University of Virginia, Charlottesville |
| Web-Site | http://plagiarism.phys.virginia.edu/Wsoftware.html |
| Software-Typ | Lader muss installiert werden (Nur Windows) |
| Kosteninfo | kostenlos |
| Testdatum | 24. Juli 2007 |
Testüberblick
---
Testablauf/Kommentare
Dieses ist ein Collusion-Detection-System (Zusammenarbeitserkennungssystem) mit vielen einstellbaren Parameter.
Ein Ladesystem wird installiert (keine DLLs werden installiert, siehe Screenshot 1).
Es werden 148 KB heruntergeladen, die extrahierte .EXE ist 304 KB groß.
Die Dokumentation (auf englisch) ist sehr schwer verständlich, es erklärt eigentlich nur, was die eigentlichen Parameter sind. Wir haben das System 3 mal zum Absturz gebracht, weil wir "load from file" so verstanden haben, dass wir die Dateien angeben, die zu testen sind. Erwartet wurde jedoch, dass die Dateien, die geladen werden, selber die Dateinamen beinhalten. Wir mussten mit "Browse for documents" die Dateien, die zu vergleichen waren, angeben. Stand aber tatsächlich auch so in der Dokumentation, also müssen wir uns das selber zuschreiben.
Ergebnis ist ein Überblick (Screenshot 2) mit anschliessender Paralleldarstellung. Es ist ein passabler Vergleich der Dokumente, obwohl es in beiden Testdokumente ca 15% Übereinstimmung gab, ist es nicht klar herausgekommen (vielleicht ein Umlautproblem?). Der Bericht zeigt beide Dokumente nebeneinander in 2 Fenstern, verdächtige Stellen sind rot angestrichen.
Einzeltests
entfallen
---
Screenshots

Screenshot 1: Nach Aufruf des Systems bekommt man folgende Schnittstelle zu sehen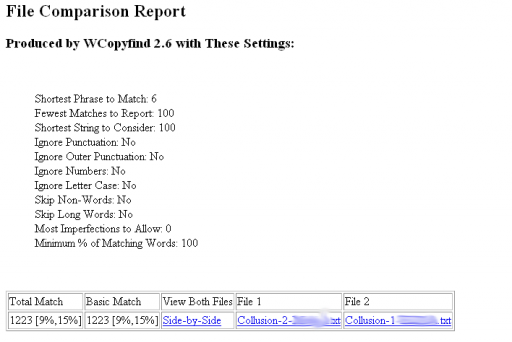 Screenshot 2: Bericht
---
Firmenwerbung
"This program examines a collection of document files. It extracts the text portions of those documents and looks through them for matching words in phrases of a specified minimum length. When it finds two files that share enough words in those phrases, WCopyfind generates html report files. These reports contain the document text with the matching phrases underlined.
What WCopyfind can do: It can find documents that share large amounts of text. This result may indicate that one file is a copy or partial copy of the other, or that they are both copies or partial copies of a third document.WCopyfind can presently handle text, html, and some word processor files (notably Microsoft Word documents). […]
What WCopyfind cannot do: It cannot search the web or internet to find matching documents for you. You must specify which documents it compares. Those documents can be local ones on your computer or a file server or, with versions 2.1 and higher, web-resident documents that are pointed to by localinternet shortcuts."