Software Profile | Testoverview | Summary| Screenshots | Business Promotion | Links
ID
S10-49
Product
Grammarly
Company
Applied Linguistics LLC
93 South Jackson Street, #35410
Seattle, WA, 98104
Web Site
http://www.grammarly.com
Software Type
Online
Costs
Monthly Subscription — $19.95/monthQuarterly Subscription — $13.45/month billed as one payment of $39.95

Annual Subscription — $7.95/month billed as one payment of $95.45

Test Date
2010-10-23
---
Ranking for all tests:
24
Ranking for tests 10-40:
23
Ranking for tests 31-40:
23
Usability:
11
Professionalism
22
Middle Ranking
20,6
Effectiveness (Grade):
F
Overall Ranking:
24

useless
---
Grammarly permits a 7 day free trial, but you have to purchase it on credit card and cancel before the 7 days are up. The site is focused on writing and English grammar checking and proofreading, and includes a plagiarism testing component. There is only a window for pasting in text, and only one test can be done at a time. It found about 30% of the plagiarism, but the reports could not be stored. We wrote an email to complain, and received a reply that they are working on it – we never heard back from them.
---
Company Statement
---

Screenshot 1: The homepage of Grammarly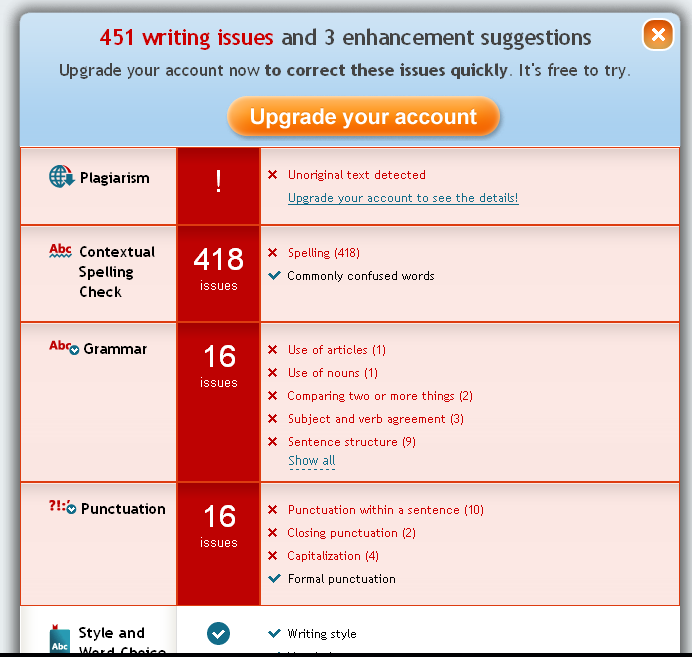 Screenshot 2: To see the results, we have to upgrade our full free trial account.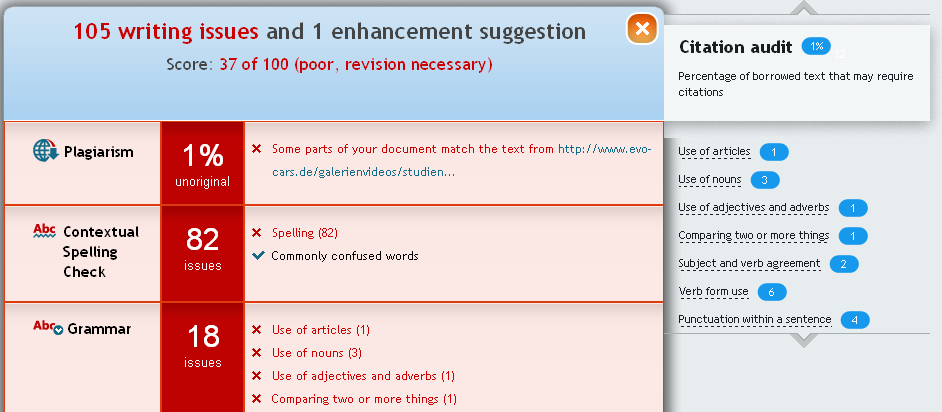 Screenshot 3: 1% is already shown in red colors.
---
"Grammarly is an automated proofreader and your personal grammar coach. Check your writing for grammar, punctuation, style and much more. Check your text for the proper use of advanced grammar rules. Get accurate error explanations. Find borrowed text before it gets you into trouble. Automatically generate references. Use words that make an impact. Liven up your sentences and improve readability with context-optimized word choice suggestions. Spot correctly spelled words used in the wrong context. No more embarrassing typos like then-than, to-two-too, lose-loose."
---
official website http://www.grammarly.com