Software Profile | Testoverview | Summary| Screenshots | Business Promotion | Links
| | |
| --- | --- |
| ID | S10-47 |
| Product | PercentDupe |
| Company | no information |
| Web Site | http://www.percentdupe.com |
| Software Type | Online |
| Costs | free |
| Test Date | 2010-09-14 |
---
Ranking for all tests:
22
Ranking for tests 10-40:
24
Ranking for tests 31-40:
24
Usability:
16
Professionalism
19
Middle Ranking
21
Effectiveness (Grade):
F
Overall Ranking:
25

useless
---
PercentDupe is a system registered by a Mexican in Mexicali, but the address given is in New York. Google, however, does not know of any address such as is given on the web page. The system is free, but only 15 tests per IP-Address without signing up. There were some bizarre results, for example, the source for a previous test was given as a source for a later one. Umlauts confuse the system, and the numbers reported are unclear. There was no answer to our inquiry on the contact page, no telephone number given. The telephone number given in the domain name registration database is the private number of a woman in New York. The reports are difficult to decipher, and the results are consistently poor. In addition, the terms of service grant the company the right to use your text in any way they please.  "Dupe" does seem to be an appropriate name for this service.
---
Company Statement
---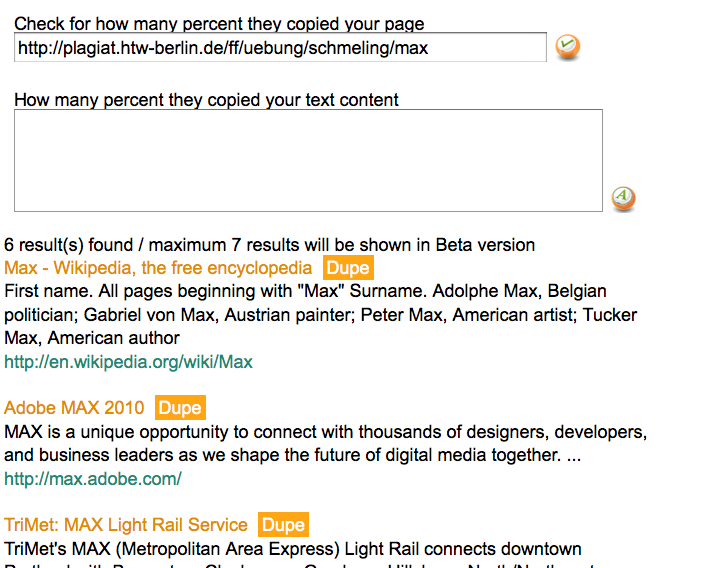 Screenshot 1: The results for the biography of Max Schmeling are only matching with the first name.

Screenshot 2: Searching for "Fraktur", we get results of the text we tested before.

Screenshot 3: The Forum: Here you can get information about ghostwriting.
---
"PercentDupe is a leading provider of innovative solutions for protecting your valuable content online.
PercentDupe is dedicated to protecting your valuable content online. We provide the world's most powerful and most popular online plagiarism detection solutions. PercentDupe's products are trusted by millions of website owners worldwide to check the originality of their new content, prevent duplicate content, and search for copies of existing content online."
---
official website http://www.percentdupe.com