Software Profile | Testoverview | Summary| Screenshots | Business Promotion | Links
ID
S10-30
Product
plagium
Company
Dr. Benjamin Epstein
Septet Systems Inc.
6747 Ingram St.
Forest Hills, New York, 11375
Web Site
http://www.plagium.com
Software Type
Online
Costs
free
Test Date
2010-02-07
---
Ranking for all tests:
25
Ranking for tests 10-40:
25
Ranking for tests 31-40:
15
Usability:
10
Professionalism
14
Middle Ranking
17,8
Effectiveness (Grade):
F
Overall Ranking:
19

useless
---
plagium is a new system that is still in beta testing. It uses Yahoo as its search engine. It takes a long time to check, our first attempt crashed after 15 minutes of reporting 98% finished. Numerous other tests crashed as well, but we were able to get all test cases finished in about 3 hours. Only one test can be done at a time, and the reports just give some text with a link and a "rank" with a percentage. There is a "Text Usage Timeline" offered, which has red balls of different diameters plotted on a grid of months vs. time, which makes no sense to us as teachers, but apparently can be useful for people tracking plagiarism of their sites. On the older tests it would often report a partial plagiarism with a page that was a complete copy, on the newer tests only results were found when at least one of the sources was the Wikipedia, otherwise nothing was found, although this may be just a chance result. Overall, only a dismal 26% of the effectiveness points on all test cases were obtained.
---
Company Statement
The manufacturer is keen that all our correspondence is reproduced here because he is unhappy to be in the category "useless". He thinks that many people can cope well with his system.
Mail 1:
Mail 2:
Mail 3:
Mail 4:
Note: I received no answer to my request for a street address, so I researched the Department of Commerce database. There is an entry from 2005 for a Septet Systems registered by Benjamin Epstein, so I have included the address here, although it appears to be a residential neighborhood. The company may now be located somewhere else.
---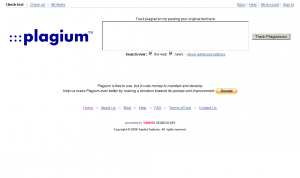 Screenshot 1: Home

Screenshot 2: Nothing found, although it is a Shake & paste plagiarism of three sources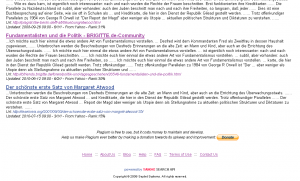 Screenshot 3: Report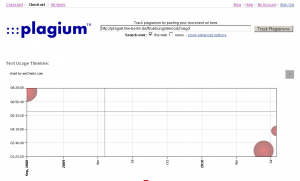 Screenshot 4: We do not understand what should be the red balls.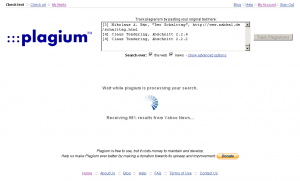 Screenshot 5: We had to wait often.
Screenshot 6: The server was often overloaded too.
---
"Plagium is a service of Septet Systems Inc. – a New York-based company that specializes in advanced search solutions for industry, the public sector, and government. We have aimed to provide an easy to use service that applies to a broad base of users."
---
official website http://www.plagium.com