Software Profile | Testoverview | Summary| Screenshots | Business Promotion | Links
ID
S10-20
Product
CheckForPlagiarism.net / iPlagiarismCheck
Company
Plagiarism-Checkers, Inc.
Web Site
http://www.checkforplagiarism.net, http://www.iplagiarismcheck.com
Software Type
Online
Costs

| | |
| --- | --- |
| Package | Price |
| Student Package | $ 20.00 |
| Monthly Package | $ 65.00 |
| Yearly Paket | $ 150.00 |
| Special Student Package | $ 39.95 |
| Individuelles Package | – |

Test Date
2010-09-21
---
Ranking for all tests:
17
Ranking for tests 10-40:
5
Ranking for tests 31-40:
15
Usability:
19
Professionalism
16
Middle Ranking
14,4
Effectiveness (Grade):
F
Overall Ranking:
15

useless
---
iPlagiarismCheck (also called checkforplagiarism.net) had been determined in the 2007 test to have results that bore a marked similarity to the results of Turnitin. The company insisted, however, that these just were the results that any system would give on the plagiarisms – although none of the other systems came even close to having an identical order and plagiarism amount to the turnitin results. 2008 we were not able to obtain a free test account, and thus paid for only 5 documents. These results were inconclusive. We decided this year to invest in a full 30-day license, and Turnitin put a honey pot paper into their database. iPlagiarismCheck – and only iPlagiarismCheck reported that this was a 100% plagiarism and gave as the source the non-existent link stored in the Turnitin database. This proves that there is no system here, just the crooked business of making money using other company's software.
---
Company Statement
---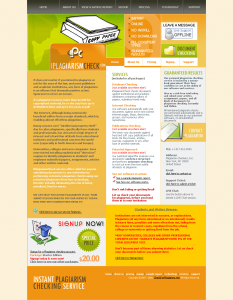 Screenshot 1: Homepage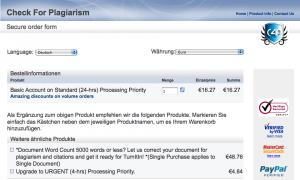 Screenshot 2: prepare for Turnitin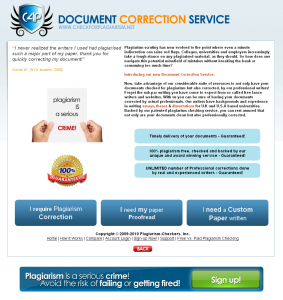 Screenshot 3: correction service is offered

Screenshot 4: waiting for a few hours
---
"CheckForPlagiarism.net is a USA and UK based company which helps scan documents (any type of documents) for Plagiarism using the latest and most in-depth technology available to identify and highlight even the most subtle attempt at either intentional or un-intentional plagiarism.
Giving you an opportunity to check your documents before submitting them. Whether you're a student, teacher, professional, writer or blogger; you can benefit from our service. Simply submit your document(s), and relax. We'll take it from there!"
---
official website http://www.checkforplagiarism.net, http://www.iplagiarismcheck.com