Software Profile | Testoverview | Summary| Screenshots | Business Promotion | Links
ID
S10-19
Product
Plagiarism Detector
Company
SkyLine, Inc.
Web Site
http://www.plagiarism-detector.com
Software Type
Windows Software
Costs

Number of Copies:
PD License Title:
Price
1 computer
Lite
39.99 $
1 computer
Personal
59.99 $
2 computers:
2 PD Pro
Pro
79.99 $
2 computers:
1 PD Pro
1 PD Portable
Portable
119.99 $

Testdatum
02.08.2010
Test Date 2010-08-02
---
Ranking for all tests:
18
Ranking for tests 10-40:
19
Ranking for tests 31-40:
15
Usability:
23
Professionalism
18
Middle Ranking
18,6
Effectiveness (Grade):
F
Overall Ranking:
21

useless
---
Plagiarism Detector installs 32 MB of data locally and inserts a button in Microsoft Word for starting the test on the text opened. This system reached second place in the 2008 test with a version that they sent to us on a CD. However, a number of correspondents noted that the download version attempted to install a trojan virus, so we removed it from our test.  We find it irritating that they are advertising with our school logo, although we have asked them to remove this. The system crashed numerous times, and overwrites the result report each time it gets called. Word became more and more instable, also crashing on occasion. The company was contacted and updated the system, now it hung instead of crashing. The reports could not be see inside the system, but had to be selected and viewed from the explorer. Since the system did not reach even 50% of the effectiveness point overall, it has been ranked useless.
---
Company Statement
---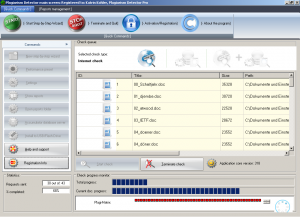 Screenshot 1: working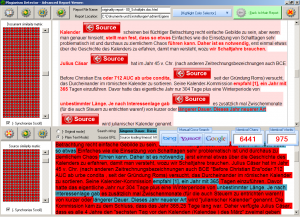 Screenshot 2: very colorful
Screenshot 3: nice chart
Screenshot 4: Trojan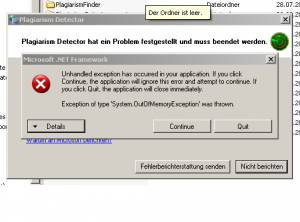 Screenshot 5: error message "out of memory"
---
"Plagiarism Detector" – is a Plagiarism Detection Software to check for Plagiarism in text documents. It is a fast and reliable Plagiarism Checker!
---
official website http://www.plagiarism-detector.com