Software Profile | Testoverview | Summary| Screenshots | Business Promotion | Links
ID
S10-11
Product
PlagScan
Company
Resonet UG
Käthe-Kollwitz Straße 13
55128 Mainz
Deutschland
Web Site
http://www.plagscan.co
Software Type
Online
Costs
There are different payment models and different account types. These are the prices for single user and power user:

| | | | |
| --- | --- | --- | --- |
| Price | PlagPoints | Amount per PlagPoint | Words| Pages |
| 5 € | 400 PP | 1,25 c | 40.000 | ca. 160 |
| 10 € | 1.000 PP | 1,0 c | 100.000 | ca. 400 |
| 60 € | 10.000 PP | 0,6 ct. | 1.000.000 | ca. 4.000 |

Test Date
2010-08-03
---
Ranking for all tests:
8
Ranking for tests 10-40:
8
Ranking for tests 31-40:
5
Usability:
1
Professionalism
4
Middle Ranking
5,2
Effectiveness (Grade):
C-
Overall Ranking:
4

partially useful
---
Fourth in the group of partially useful systems is PlagScan, a German system. This system used to be called PlagiatCheck and came in 10th in the 2008 test. One purchases "Plag Points" (PP), a test costs 1 PP per 100 words tested. The administrator sets up users and assigns them points for use. The system had trouble with umlauts, that is to have been corrected since we conducted the tests. There are three kinds of reports, a list of possible sources with links to click on, the submitted document with the suspicious areas linked to a possible source, and a docx file with the sources in comments. Sorely missing is a side-by-side presentation that is necessary for going forward with sanctions. Despite all its problems, PlagScan was first place in usability, but only 8th place in overall effectiveness with only 60% of the points awarded for finding plagiarisms.
---
Company Statement
---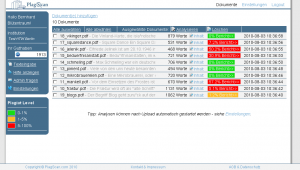 Screenshot 1: The report page is clear and tidy.

Screenshot 2: The reports are not self-explanatory.

Screenshot 3: Japanese source found in UTF-8
---
" PlagScan stands for professionalism
All documents are treated 100% confidential
You control whether your document is checked against others, or not
Integration via API in your existing CMS or learning management system possible
Plagiarism check as easy as pie: PlagScan
Annotations directly in the document, check without additional work
No installation – complete functionality in every browser
All popular formats can be processed
Save time with PlagScan
Check several documents in parallel.
Fully automated document analysis.
No use of your resources, all computation is carried out on our servers."
---
official website http://www.plagscan.com